Channel 1 Los Angeles
11/26/19
UN chief praises peaceful Colombia protests, condemns violence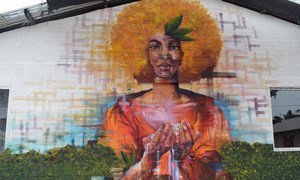 Secretary-General António Guterres is following developments in Colombia closely, and has acknowledged the "largely peaceful spirit" that characterized last week's protest marches, as well as the Government's effort to proceed with a national dialogue, his spokesperson has said.
Hundreds of thousands of demonstrators marched in Bogota and other cities in a nationwide general strike critical of President Ivan Duque, voicing complaints over proposed labour reform, and reported killings of indigenous leaders, as well as allegations of corruption which has marred the South American nation for generations.
The UN chief welcomed the peaceful nature of the 21 November strike, but also expressed concern for incidents of violence and vandalism, including an attack late on Sunday that left three police officers dead, and injured others.